Workshop has been CANCELLED

---
Previous Workshops
Students with LD: Cognitive Profile, Assessment & Tools
Friday, October 27, 2017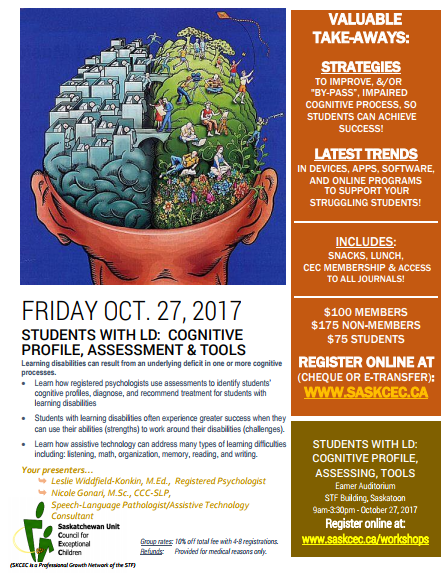 ---
SK Workshop Description: Child Development and Evidence-based Interventions
Behaviour Workshop Poster SKCEC
May 5th, 2017 @ the Saskatchewan Teachers' Federation building from 9-3:30.
This workshop will focus on child development and the protective factors that help to foster healthy development in children. It will also discuss how to assess, using practical formal and informal methods, various aspects of development including cognitive, social, behavioural, and social skills. The presenters will then describe various simple, evidence-based tools and strategies to intervene in the primary areas of development.
Thank-you to Brendan and Mary Newton for a fabulous workshop!