SK CEC AGM
You are invited to attend the Saskatchewan Unit, Council for Exceptional Children's Annual General Meeting held on January 21, 2018 at 2:00 p.m. at Mano's Restaurant, Meeting room – 1820 8 St E #200, Saskatoon, SK. 
Please join us!  
---
CEC International Convention: Tampa, Florida February 7-10, 2018
Upcoming Professional Development
Friday, October 27, 2017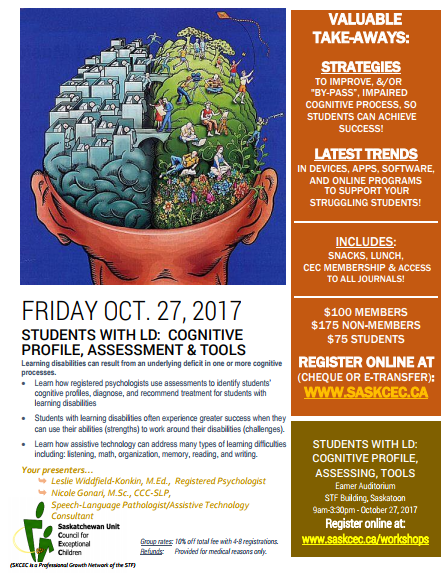 ---

Yes I Can Awards
Yes I Can Awards: Awards that recognize students with exceptionalities who overcome challenges and barriers to be successful.
Location: German Cultural Centre
Awards: May 7, 2017 from 2-4:00pm
Yes I Can Awards 2017 Winners
Athletics/Extracurricular Activity– Eli Riedel
Academics: Zachariah Holodniuk
Community Service: Ali Cole-Johnson
Independent Living Skills: Madison Lucas
Employment: Royal Bean winners: Cole Gruza, Josh Hamoline, Courtney Nesbitt, Braxton Whiteside, Lane Silzer, Ethan Laughren, Rory McEvoy and Jordon Vessey
CEC International Award Winner honoured in Boston, MA April 2017
Community Service: Quinn Smith-Windsor (Waskesiu Lake, SK)
---
SK Workshop Description: Child Development and Evidence-based Interventions
Behaviour Workshop Poster SKCEC
May 5th, 2017 @ the Saskatchewan Teachers' Federation building from 9-3:30.
This workshop will focus on child development and the protective factors that help to foster healthy development in children. It will also discuss how to assess, using practical formal and informal methods, various aspects of development including cognitive, social, behavioural, and social skills. The presenters will then describe various simple, evidence-based tools and strategies to intervene in the primary areas of development.
Thank-you to Brendan and Mary Newton for a fabulous workshop!
---
Harry Dahl Scholarship
Harry Dahl Scholarship: One academic scholarship and one transition award are available through The Saskatchewan Council for Exceptional Children Scholarships and Awards Program
*No award winners this year! Look for application form after Christmas 2017!
Academic Scholarship: This is a $1000.00 academic scholarship intended to support an individual pursuing a career directly related to working with persons with exceptionalities.
Transition Award: This is a $1000.00 award in recognition of an individual who has overcome significant challenges due to a disability in order to achieve his/her goals.
---
Canadian Member at Large for CEC
Linda Balon-Smith (linda.balon-smith@spiritsd.ca)